Complete Commercial, Residential & Agriculture Solar Systems
Uni Solar Best Solar Energy Company in Pakistan
Welcome to Uni Solar, a leading solar energy company in Lahore, Pakistan! We specialize in providing clean, sustainable, and cost-effective solar energy solutions for homes, businesses, and industries.
Our comprehensive range of solar solutions includes solar panel installation, solar water heating, solar street lighting, and much more. We use only the highest quality solar panels and equipment to ensure maximum efficiency and longevity, and all of our products come with a warranty for your peace of mind.
How can we meet the growing demand for electricity while protecting our climate & make planet a better place?
Sustainable, Reliable & Affordable Solar Energy!
Providing Value To Our ClientsThrough Ongoing Product & Innovation.
At Uni-Solar, we are committed to making solar energy accessible to everyone in Pakistan. Our team of experienced professionals is dedicated to delivering the highest quality solar products and services to meet the unique needs of each of our clients. Whether you are looking to install solar panels for your home or business, we have the expertise and resources to help you achieve your goals.
ON-Grid Solar System
Uni Solar's ON-Grid Solar Systems are custom designed to meet the specific needs of each customer.
Off-Grid Solar System
Uni-Solar is committed to providing off-grid solar solutions to households and businesses.
Hybrid Solar System
A hybrid solar system is a combination of a solar panel system and a battery storage system.
Sustainable, reliable & affordable energy systems, Find Your Solution Now!
Pioneers Of Solar Energy in Pakistan!
Commercial, Residential & Industrial Solar Systems!
At Uni-Solar, we think that everyone should have access to and be able to store clean and stable energy in a safe way. We'd like to see the relationship between people who install solar energy systems and those who want to have them changed.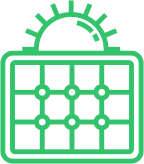 Yet those that embrace change are thriving, building bigger, better, faster, and stronger products than ever.
Yet those that embrace change are thriving, building bigger, better, faster, and stronger products than ever.

"I recently installed a Uni Solar on-grid solar system with net metering in my home, and I am extremely satisfied with the results. From the initial consultation to the final installation, the Uni Solar team was professional, knowledgeable, and efficient. Highly Recommended."

"I recently had the pleasure of working with Uni-Solar to install a 25KVA hybrid solar system with net metering at my home, and I must say that the experience has been nothing short of exceptional. Uni-Solar's commitment to delivering efficient and eco-friendly solutions is evident in every aspect of their service."

"I wholeheartedly recommend Uni-Solar for anyone considering a solar installation. Their expertise, professionalism, and dedication to delivering high-quality hybrid solar systems with net metering make them a leader in the industry. Uni-Solar has transformed my home into an energy-efficient powerhouse, allowing me to reduce my carbon footprint while enjoying significant cost savings. Thank you, Uni-Solar, for a remarkable experience!"
Innovation, Quality And Continuous Improvement
Latest Projects and Solutions
Improving The Performance Of Solar Energy.
Buy Solar Save Money
We offer products, solutions, and services across the entire energy value chain. We support our customers on their way to a more sustainable future – no matter how far along the journey to energize society with affordable energy systems.

Receive an accurate quote within 1-2 days when you fill out this form. Or, give us a call: +92 3006888555